2016 INFINITI QX50 AWD Premium Road Test Review
December 20 2015, Trevor Hofmann - Canadian Auto Press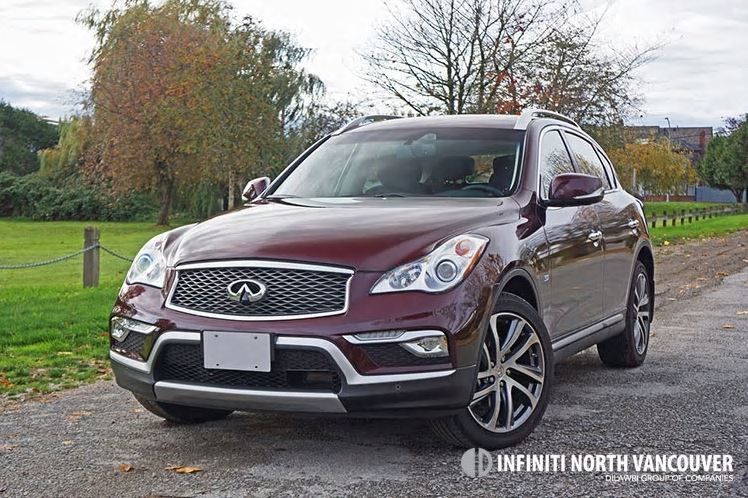 Now as Attractive and Functional as It Is Fun to Drive

Sharp looking SUV, isn't it? You're looking at the new 2016 QX50, restyled, resized and much improved. What's more, it's one of the best values in its compact luxury crossover segment.
True, for just $37,900 plus freight and dealer fees you get a solidly built luxury SUV with loads of features that usually cost quite a bit more from competitors, such as a seriously powerful V6, seven-speed automatic, all-wheel drive, 18-inch alloys on 225/55 all-seasons, auto on/off headlights, LED driving lights, LED fog lamps, LED side mirror turn signals, LED taillights, speed-sensitive variable wipers, proximity access, pushbutton start, auto-locking doors, stainless steel doorsill plates, a leather-wrapped steering wheel with illuminated multifunction controls, a leather-wrapped shift knob, beautiful Fine Vision electroluminescent gauges, a multi-information display, dual-zone auto climate control, an eight-way powered driver's seat and powered front passenger seat, leather upholstery, heatable front seats, a large seven-inch high-resolution colour infotainment display featuring a backup camera plus audio, climate, fuel economy, maintenance, comfort and convenience functions, satellite radio, a powered moonroof, all the expected active and passive safety equipment, and much more. Add this level of features to one of the competitive German compact SUVs or even its Japanese or Swedish rivals and you'll be approaching $50k or beyond, and with most you won't get anywhere near as much performance.
I've tested that base model and it's impressive, but this time around INFINITI loaned me an upgraded model featuring a $4,400 Premium package, $3,000 Navigation package, and $2,500 Technology package, which is pretty well everything the brand has to throw at it. The Premium package adds HID headlamps with auto-leveling and adaptive cornering, 19-inch twinned five-spoke alloys, auto reverse tilt-down side mirrors, front and rear parking sonar, two-way powered lumbar for the driver's seat, an eight-way powered front-passenger's seat, driver's and front passenger seat memory with the former also remembering the outside mirror positions and placement of the upgraded powered steering column, while entry/exit assist for driver's seat and steering wheel is also included, plus gorgeous genuine maple hardwood inlays, an awesome sounding 11-speaker Bose audio upgrade, extremely convenient quick-dropping and power up-folding second-row seats, and more, while the Navigation package added voice-activated navigation, NavTraffic, a 360-degree Around View parking monitor, and Bluetooth streaming audio, while lastly the Technology package included full-speed range adaptive cruise control, distance control assist, blind spot warning, lane departure warning, lane departure prevention, intelligent brake assist, and forward collision warning.

It's an impressive load of features for the compact luxury SUV class, but it's made even more alluring because of the QX50's cabin. For starters my tester's was caramel mocha macchiato overload, or at least there were enough brown tones to make earthy folks and chocolate-caramel lovers feel right at home, and possibly quite hungry. Those who appreciate hardwoods should also feel comforted that this INFINITI remains grounded in tradition. A combination of bending maple veneer planks covers the centre stack and lower console, while all four doors get beautiful inlays as do the power window, lock and mirror control panels. On that note the QX50 continues INFINITI's tradition of high-quality switchgear, the cabin filled with tightly fit, nicely damped buttons, knobs and toggles, some rubberized for easy grip while others get the textured metal treatment.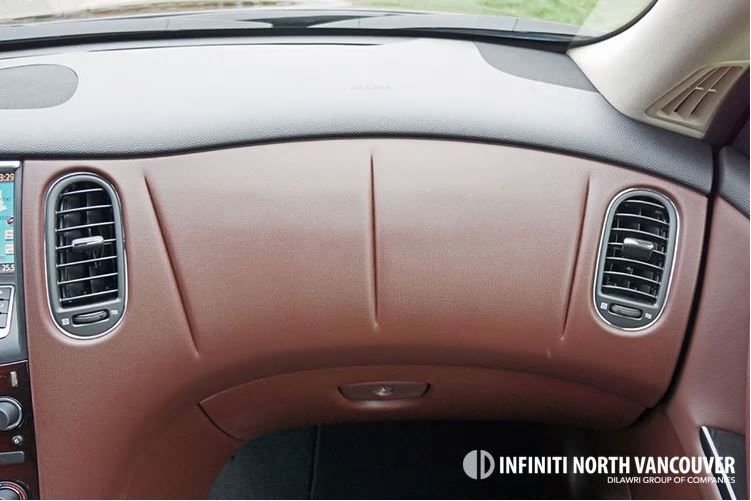 It's all nice stuff, but where INFINITI blows the rest of the compact elite out of the water is in its application of soft touch materials. The extremes INFINITI has gone to cover nearly every square inch of the QX50's interior with high-grade pliable plastic are impressive to say the least. All of the dash top and most of the instrument panel gets the soft-touch treatment, even including the glove box lid, whereas the door panels are finished in the cushy synthetic right down to their lower extremities, even where the sun never shines between the bottom of the closed door and hidden doorsills. The last vehicle I drove that went to such great lengths finishing off its door panels was a Rolls-Royce Ghost Series II, the QX50 following the same front door detailing into the back seating area.
Back up front, the primary gauge package is simple and straightforward in layout, but beautiful in electrochromic execution with finely detailed white on black dials plus backlit purple-blue inner circles. Over to the centre stack, the quality of infotainment graphics and resolution is quite good, while its navigation system is excellent. Ditto for the Bose audio system that delivers rich, deep bass tones and bright highs to make the most of any music genre.
Something sometimes overlooked by other premium brands, the QX50's cargo compartment is finished to a higher grade than average, with rich carpeting, a robust retractable cargo cover with an aluminum cross member, a thick canvas tonneau and heavy chromed metal handle, plus the seatbacks fold via powered release buttons on either side of the cargo wall, dropping flat into place with one single fluid movement, a hard shell section automatically falling into place to cover the gap in between the seatbacks and cargo floor. Better yet, the rear seats power back up via a button on the lower console, positioned between the rotating dials for the variable heatable front seats while straddling the Snow On/Off toggle, only needing a tug apiece to automatically rise into place. These would've been ideal when my back was out, yet I nevertheless had to pick up my youngest that normally has trouble raising a rear seatback herself.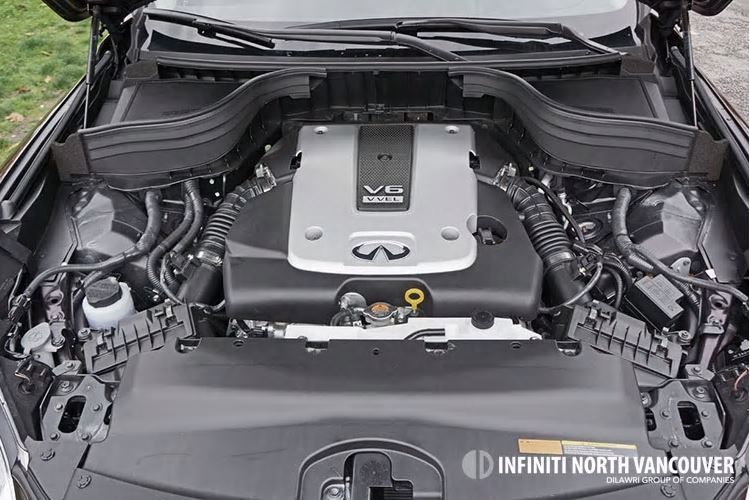 Getting to the school on time is equally quick and effortless. Most of the QX50's competitors don't offer anything anywhere near as powerful as this SUV's base engine even in top-line trims, yet INFINITI's compact challenger delivering 325 horsepower at 7,000 rpm and 267 lb-ft of torque at 5,200 rpm from a continuously variable valve timing and Variable Valve Event and Lift (VVEL) enhanced 24-valve, DOHC 3.7-litre V6, but that's only part of the go-fast equation. The rest comes from a smooth yet quick shifting close ratio seven-speed automatic gearbox with Adaptive Shift Control (ASC) and Drive Sport (DS) mode with Downshift Rev Matching (DRM), the latter a technology that automatically synchronizes engine revs to a chosen lower gear in order to ideally mesh the two together, similar to how a performance driving professional blips the gas pedal while downshifting a manual shifter before a corner. All of this techno talk aside the QX50's powertrain makes you look and sound like said pro and simultaneously performs better.
It all would be moot if it weren't for a capable chassis, and the QX50 shares its underpinnings with all of the best rear- and all-wheel drive Nissans and INFINITIs out there; GT-R excluded that gets exclusive use of the automaker's Premium Midship (PM) platform. The QX50 utilizes Nissan's FM platform architecture shared with the current 370Z, INFINITI Q60 and QX70, as well as the old 350Z, G35 two and four door models, and M sedan. Nissan derived the FM abbreviation from the Front Midships positioning of the engine, which places the centre of mass just behind the front axle centerline, therefore shifting weight rearward which unloads the front suspension for freer steering. Depending on model, the weight distribution is apportioned as close to 50:50 as possible for better balance, while the design also allows INFINITI's engineers to push the wheels further out towards each corner to improve overall control. That's a lot of background to back up one very important reality: unlike most of INFINITI's competitors that base their compact SUVs on front-wheel biased economy cars, the QX50 is in an entirely different league and therefore takes to corners like a premium rear-wheel driver or rear-wheel biased all-wheel drive sport sedan.
It feels surprisingly nimble for such a long, substantive vehicle. Along with 80 mm of additional wheelbase and 109 mm of extra length, INFINITI claims a mere two kilos of weight gain from last year's 1,829-kg QX50, while 15 mm of added ride height enhances visibility, helps to improve ride quality, and makes heading to the slopes more confidence inspiring.
Dig deep into the accelerator and the 3.7 roars to life with the most satisfying of sounds, the sprint to highway speeds seemingly instantaneous and requirement for its capable chassis critical. That's when its sport-tuned all-wheel drive can really be felt, with absolute rock-solid stability during long sweeping corners and certain confident control when those curves tighten up. It's a rewarding SUV to pitch into fast-paced turns, its overall responsiveness downright fun. Braking is strong too, while fade is shockingly nominal considering the heft that was repeatedly being hauled down from high speeds. It's hard to believe something so sporty can deliver so much interior roominess and utility.

The front seats are the same, or rather adequately spacious for most body types, but the additional 235 litres of interior volume that resulted from the stretch allowed for 65 mm of extra legroom and therefore more space in back, while the cargo department increased by 76 litres for a total of 526 litres behind the 60/40-split rear seatback and 1,416 litres when they're folded flat. I've already mentioned what an easy process that is and how nicely finished its cargo compartment is, but such is par for the course in the entire QX50.
Money spent for this particular SUV increases by $10,185 over base due to all available options being added, but that still adds up to only $48,085 before freight and dealer fees. Again, tally up one of the Germans after adding all of their options and you'll find a much pricier alternative that likely doesn't perform to the same level, and now with its stylish new front and rear designs, increased features, added spaciousness and other improvements the QX50 is as good looking and functional as it's fun to drive. I recommend it highly.

Story credits: Trevor Hofmann, Canadian Auto Press
Photo credits: Karen Tuggay, Canadian Auto Press
Copyright: Canadian Auto Press Inc.