2016 INFINITI QX50 AWD Road Test Review
December 24 2015, Trevor Hofmann - Canadian Auto Press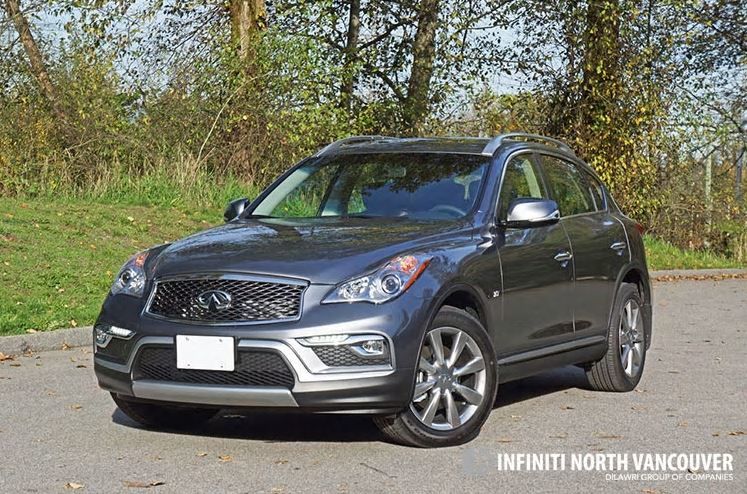 New Design and Longer Wheelbase Add to QX50 Popularity

The QX50 is playing an increasingly more important role for the INFINITI brand as of late. Last year it made up just over 20 percent of the premium marque's Canadian sales, but during the first five months of 2016 the QX50 represented nearly 25 percent of overall deliveries, a big bump that reflects both general growth in the compact luxury SUV segment as well as significant upgrades introduced to this model late last year.
While the general shape appears much the same at first glance, those familiar with the QX50 will immediately notice INFINITI's now trademark double-arch grille complementing the frontal design, along with a nicely reworked front bumper and lower fascia with lots of satin silver and chrome trim, plus an intricate set of chrome rimmed LED driving lights along with LED fogs. Additionally, INFINITI has redesigned the side mirror housings while adding de rigueur LED turn signals, plus it's reshaped the side sills, added a new rooftop spoiler with an integrated LED centre-mounted brake light, and given the rear end design similar changes to those up front including updated LED taillights that visually pop, a restyled bumper cap with large rectangular turn signals and reflectors, plus a stylish aluminum-look under-tray that frames two large bright polished tailpipes.
While the 2016 QX50's updated styling now helps it visually fit within INFINITI's lineup, the biggest change in its makeover may just be the global adoption of a previous Chinese-market exclusive long-wheelbase version as standard equipment. The stretch incorporates an 80-millimetre wheelbase extension plus 109 millimetres of added length resulting in 235 litres more interior volume, this newfound roominess especially impacting the rear quarters that now enjoy 65 mm of extra legroom, while cargo volume gets a 76-litre bump. In English this means rear passengers enjoy considerably more knee and legroom while surrounded in a more open and airy cabin, plus you can bring along more gear.
Additionally, INFINITI has increased ride height by 15-mm (0.6-inch), which will make some difference during off-pavement excursions to the cottage or ski hill, but I'm guessing this change had more to do with increasing the driver's visual command of the road.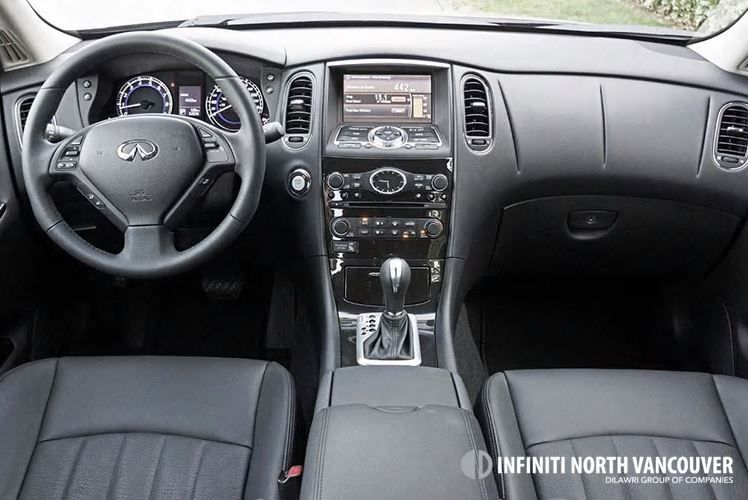 The mostly carryover interior includes a new standard power tilt and slide tinted moonroof with sunshade overhead. Fortunately the QX50's cabin was already very appealing with a soft dash top and an even softer leatherette primary instrument hood, plus a soft plastic instrument panel and a similar high-quality pliable synthetic covering each door from top to bottom, various trim bits, switchgear and comfortably padded armrests aside. Even the glove box lid is made from the softer stuff, something a number of competitors don't offer. On the lower console, a very upscale stitched leather-topped cover opens up to a set of cupholders with a unique drop floor that makes way for taller bottles, while a comfortable padded leather and chrome trimmed armrest hides a larger velvet lined bin just behind, complete with a 12-volt power supply and USB plug.
There was plenty of aluminum trim in my tester too, along with patterned aluminum inlays across the stylish door panels, while the entire centre stack was surfaced in a glossy grey composite that's easier to keep clean than the piano black lacquer used on so many other vehicles these days. It's not wood or carbon-fibre, the former available with a $4,400 Premium package upgrade, but it still looks good.

Speaking of good looking, the QX50's primary gauges are simple and straightforward with two large, bright dials done out in a beautiful electroluminescent white on black with purple highlights, while a black and white LCD multi-information display sits at centre. The aforementioned centre stack gets a large infotainment display accessed via INFINITI's quality feeling metal-edged rotating controller that's surrounded by a bevy of buttons. In base trim it features displays for regular and satellite radio, fuel economy details, maintenance info, and vehicle settings, and is extremely easy to sort out. Quick access audio controls are positioned just below, set around INFINITI's trademark analog clock that looks as elegant as ever, while a neat row of dual-zone auto HVAC controls are positioned in a separate interface underneath. In addition, the lower centre console incorporates a gorgeous leather and metal gear selector assembly ahead of two variable temperature rotating seat heater controls positioned closer to the armrest, these flanking a driver-selectable Snow mode.
As you may have noticed there's no Sport mode in that mix to enhance performance, but with standard V6 power, a brilliantly reactive seven-speed automatic, rear-biased all-wheel drive, conventional rack-and-pinion steering that delivers good feedback, a fully independent sport-tuned double wishbone front and multi-link rear suspension, plus body mass that's generally lighter in weight than most competitive SUVs, it hardly needs one.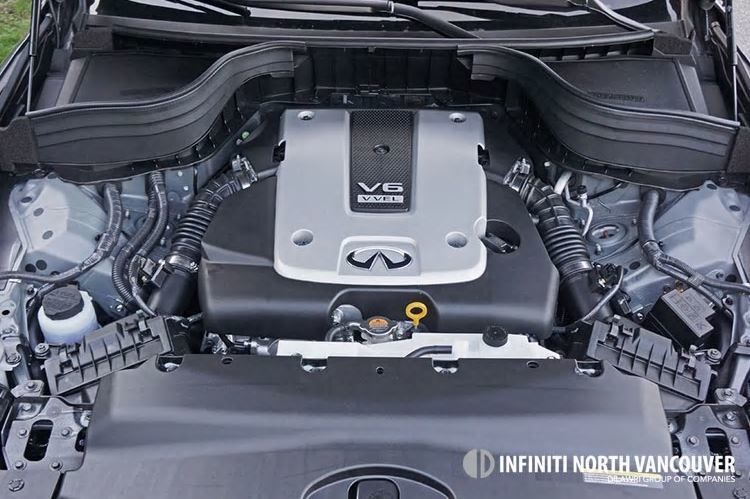 It was easy to coax speed out of the Adaptive Shift Control-enhanced gearbox and the QX50's seriously sporting 24-valve, DOHC 3.7-litre V6, the former blipping the throttle ahead of rev-matched downshifts and the latter infused with continuously variable valve timing and Variable Valve Event and Lift (VVEL) for 325 horsepower at a heady 7,000 rpm and 267 lb-ft of willing torque at 5,200 rpm, a manual-mode sequential shift lever adding to the experience.
All of this willing energy makes the QX50 thoroughly enjoyable around town and impressively capable on the open road, whether cruising at high-speed down the freeway or tackling a twisting two-laner. Its longer wheelbase has improved the former and doesn't seem to have impinged on the latter, while it certainly enhances rear seat comfort. Unfortunately I never had opportunity to sit in the rear while the QX50 was mobile, but I lounged in back while taking notes and found the rear seats offered better lumbar support than most, while rear legroom should be more than adequate for the majority of adults. My five-foot-eight frame still had a good six to seven inches ahead of my knees when the front seat was set to my optimal driving position, while four inches remained above my head. A large armrest folds down between the two outboard positions, providing additional rear seat comfort and the bonus of twin cupholders.

The larger cargo compartment is particularly well finished, with what I think is the nicest tonneau cover in the industry. It's comprised of an aluminum cross member filled with a retractable canvas scroll cover that's completed by a thick chrome metal handle. It's easy to remove and put back in place, too. Also, lowering the rear seats couldn't be easier thanks to a standard switch on each sidewall that immediately drops the 60/40-split seatbacks down to lay completely flat. Most competitors don't manage this task anywhere near as skillfully.
So, while the QX50 might not be as new as some INFINITI fans would like, there's still a great deal to appreciate about what was already there, and much to celebrate with the redesign. I think most would agree the styling changes made from front to back were well executed, while the boost in interior roominess is key to making the QX50 more livable. It also remains one of the sportiest crossover SUVs in its segment and one of the most affordable so equipped.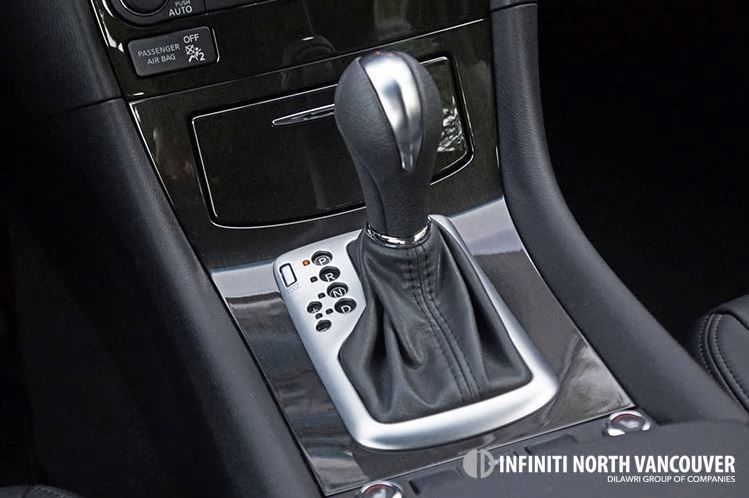 The QX50 also delivers an impressively long list of standard features for a luxury SUV starting at just $37,900 plus fees, including everything already mentioned plus all the expected comforts and conveniences such as auto on/off headlights, speed-sensitive variable intermittent wipers, auto-locking doors, powered heatable side mirrors, illuminated vanity mirrors, dual-zone auto HVAC, an eight-way powered driver's seat and four-way powered front passenger seat, a leather-wrapped tilt and telescopic steering wheel, a leather-wrapped shift knob, plus a large high-resolution colour infotainment display, which in the QX50's case is seven inches in diameter and filled with audio, climate, fuel economy, maintenance, comfort and convenience functions, whereas the stereo is a good sounding six-speaker system with a CD, aux and USB plugs, satellite radio, RDS and speed-sensitive volume.
Unexpected but welcome, the QX50 also comes standard with a rearview camera system, not always part of the base package in the premium sector, while those gorgeous Fine Vision electroluminescent primary dials I mentioned earlier include a standard multi-information system at centre. Another bonus that's often extra with competitors and comes standard with the QX50 is proximity-sensing keyless access, along with an illuminated start/stop button, while it also gets stainless steel front doorsill plates, and possibly most notable, premium leather upholstery throughout. Most Germans only come standard with leatherette, which is something else to consider, while the QX50 also includes the benefit of variable-temperature heatable seats up front. What's more, INFINITI even lets you choose between Graphite (black), Wheat (beige) or Chestnut (caramel) interior colour themes at no extra charge.
Such variety and value will come as no surprise to INFINITI owners, but will likely be a shock to those stepping up over from another premium brand. You really can't buy more performance and luxury in the compact utility sector for a better price than this QX50, so consider it seriously.

Story credits: Trevor Hofmann, Canadian Auto Press
Photo credits: Karen Tuggay, Canadian Auto Press
Copyright: Canadian Auto Press Inc.