2016 INFINITI QX80 Road Test Review
December 28 2015, Trevor Hofmann - Canadian Auto Press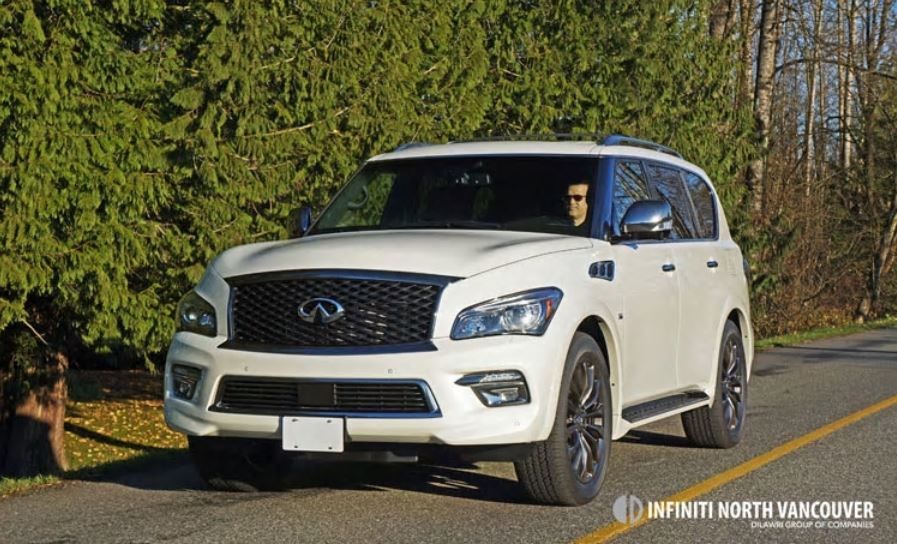 By Far the Best Value and One of the Best Suvs in Its Class
The QX80 makes a bold, powerful visual statement that's unlike any other luxury SUV, or really any other vehicle on the road. It's big, massive actually, but its curvaceous body makes it seem smaller than it actually is, even exuding a certain athletic grace, albeit more LeBron James than Misty Copeland.
Fortunately there's a 5.6-litre V8 making 400 horsepower and 413 lb-ft of torque behind its dazzling chromed grille, all of that energy put into good use by a smooth shifting seven-speed automatic. Off-road capable four-wheel drive with a low range of gears is standard, as expected in this serious SUV class, while its 4x4 heritage is more legendary than most competitors.

INFINITI bases its QX80 on the all-continent conquering Nissan Patrol, a police- and military-spec rock crawling, mud slinging off-road warrior that few are worthy of comparison. Of note, the QX80's 234 millimetres of standard ground clearance is more than most of these competitors offer, so there won't be many obstacles capable of hanging it up.
Of course, I'll hazard to guess most QX80s never leave pavement, this class of SUV more about status and style than torturous trailblazing. All luxury brands selling into the full-size sport utility category have long learned the real test these often truck-based vehicles need to pass is overcoming the inner-city jungle and open highway, often with trailer in tow.
A Class IV hitch comes standard as does its 3,855 kilograms (8,500 lbs) of towing capacity, satisfying those seasonal camping trips and more regular jaunts to the boat launch, while the QX80's ride delivers the kind of soothingly compliant competence that only generous wheel travel can accommodate, the big ute fully capable of eliminating the sudden harshness of unexpected potholes and frost heaves let alone pavement grooves, uneven surfaces, bridge expansion joints, and speed bumps. Loose gravel? It's a joy, especially when the stability control tucks the QX80's tail inwards just before it might otherwise slide wide, modern-day technology an even greater friend to those who frequent the wild outdoors than merely battle rain, sleet, snow and other causes of slippery road conditions.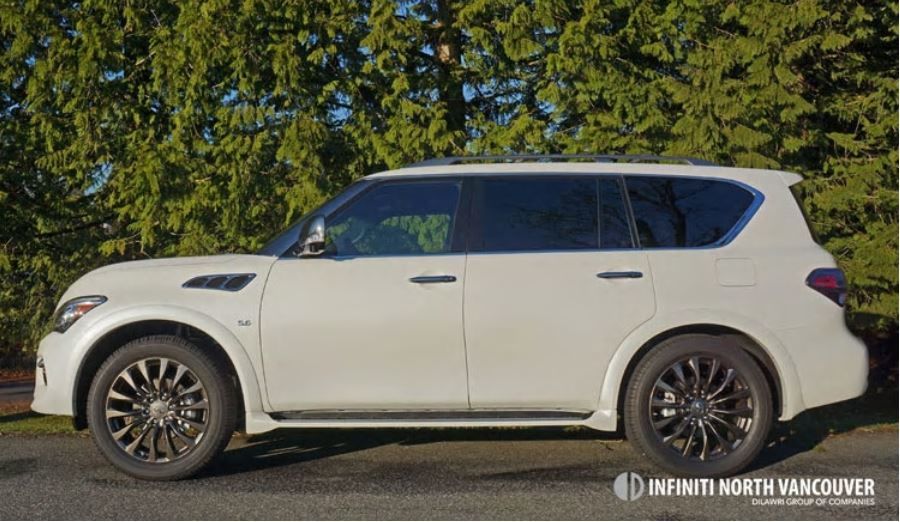 You might ask why I'd even consider hurling a near six-ton SUV through fast-paced corners, let alone roads that aren't even paved, but that's the best part of the QX80 story. Despite being one of the beefiest sport utilities in existence, this SUV handles like an INFINITI. Truly, the way this largest QX model manages high-speed twists and turns is jaw-dropping impressive, remaining flat and focused during quick 90-degree bends thanks to an adaptive hydraulic body motion control system that instantly adjusts the suspension to counteract shifting loads, whether side-to-side or vertical, while it's just as capable of tracking effortlessly on the freeway when the full-speed range adaptive cruise control is set to slightly higher than posted speeds.
The QX80 is one of the only vehicles I've ever experienced that makes 22-inch rims look small, these being four of the reasons, along with its 275/50R22 Bridgestone Dueler all-season performance tires, why it sticks to any surface as well as it does. My Limited trim tester's dark chromed 14-spoke rims looked fabulous, a perfect match for the largest version of INFINITI's trademark grille to date. That grille, and the lower engine vent, are finished in darker chrome than usual, as are the QX80's jeweled LED headlamps, shapely combo LED DRL/fog lamp surrounds, front fender engine vents, unique A-pillar caps, side mirror housings, door handles, rooftop side rails, scalloped LED taillight trim, rear license plate garnishes, and liftgate bumper protector plate. Suffice to say my top-line QX80 Limited looked pretty rich.

The only more impressive vantage point is seeing the QX80 Limited from inside. It's incredible. Stainless steel running boards with rubber grips and welcome lights allow easier access, at which point you'll be greeted by soft pliable plastics found just about everywhere. Even nicer, down each side of the centre stack, as well as the lower console sides, across the door panels, armrests, and the seats themselves is gorgeous padded high-grade Truffle brown semi-aniline leather (other colours are available), stitched with a quilted wavy pattern in key areas, the latter in brown thread while contrast light grey stitching gets used for side seams. The seat inserts are perforated for ventilation, whereas grey piping surrounds each bolster and the centre armrest for a bespoke look. All gets visually matched with a Truffle brown leather-rimmed steering wheel, while appearing even more custom-fit are slabs of genuine open-pore matte-finished ash hardwood, some of the nicest I've ever seen in any vehicle. Overhead and down each roof pillar is the richness of ultra-suede, and no the price tag isn't well into the six-figure bracket like most similarly equipped rivals, the majority not even close to matching the QX80 Limited's wow factor. Rather, the base QX80 starts at a modest $74,650, while this top-line Limited version is still very reasonable at $92,800.
Of course its cabin gets the expected electronic interfaces, starting with a multi-information display within the beautifully detailed electroluminescent primary gauge cluster. The infotainment system atop the centre stack is loaded with features including excellent navigation mapping with bloodhound accuracy when en route to your destination. It also incorporates a 360-degree surround-view monitor, which is especially useful for keeping the QX80's outer extremities unscathed when parking.
An additional attribute benefiting all INFINITI models is high-quality switchgear, the QX80's some of the nicest offered in the luxury sector. The metal-edged rotating dial for the infotainment system might get noticed first, but all buttons, knobs and toggles throughout the cabin are a cut above, with absolutely perfect fit and finish, amazingly good damping, and out of the ballpark class and style. Even more over the top, finishing the door speaker grilles and grab handles in premium leather is downright decadent, while even the SUV's floor mats are impressive, with plush pile carpeting, brown edging, and thick metal INFINITI nameplates front and back.

The second-row seats are wonderfully comfortable and amply spacious like those up front, while my seven-occupant tester included a large centre console where the optional eighth seat is available in base trim. Those outboard seats flip up and out of the way easily, providing good access to the roomy third row. Rearmost passengers get decent visibility too, plus ample heat and ventilation, whereas each second-row occupant gets dual roof vents as well as seat heaters, all accessible via the tri-zone advanced auto climate control system's rear panel (the advanced part being auto recirculation, plasmacluster air purification and a grape polyphenol filter).
As for stowage, INFINITI includes a standard powered liftgate and power-folding rear seats in Limited trim. There's no shortage of cargo space either, the numbers reading 470 litres behind the third row, 1,405 litres behind the second, and a gargantuan 2,694 litres when both rear rows are folded. Nice chrome tie-down hoops are fastened to the cargo compartment's sidewalls, while INFINITI has added three large metal bumper protectors too, but they're so nice I was more worried about scratching them than the paint underneath.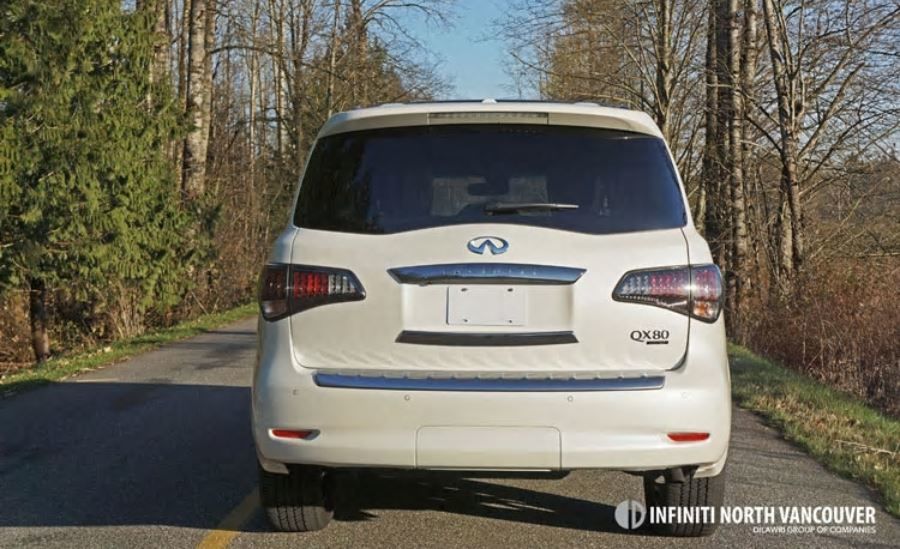 Speaking of protection from scratches, all INFINITIs feature self-healing Scratch Shield clearcoat, whereas to prevent even more serious scars and denting the QX80 Limited includes standard adaptive cornering headlights with auto high beams and auto-leveling, forward emergency braking, predictive forward collision warning, backup collision intervention, blindspot warning and intervention, lane departure warning and prevention, distance control assist, and front pre-crash seatbelts, whereas all of this gets added to an SUV that comes fully stocked with the expected active and passive safety net.
Some standard QX80 features not already mentioned include auto on/off LED headlamps, remote start, proximity access, pushbutton ignition, a heatable steering wheel, climate-controlled front seats, NavTraffic with Real-Time Traffic info, a superb 15-speaker Bose surround audio system, Bluetooth streaming, a moonroof, front and rear parking sensors, and much more.
While north of $90k is a lot to spend on any SUV, the QX80 Limited is far from average. It delivers a great deal more luxury than any competitor for the dollar figure asked, while its style, performance, off-road prowess, and overall utility make it more than good enough to compete in this rarified class. Don't buy a full-size luxury ute without first driving a QX80 Limited, as I believe you'll be very impressed.
Story credits: Trevor Hofmann, Canadian Auto Press
Photo credits: Karen Tuggay, Canadian Auto Press
Copyright: Canadian Auto Press Inc.