2017 INFINITI Q60 3.0T AWD Coupe Road Test Review
December 12 2016, Trevor Hofmann - Canadian Auto Press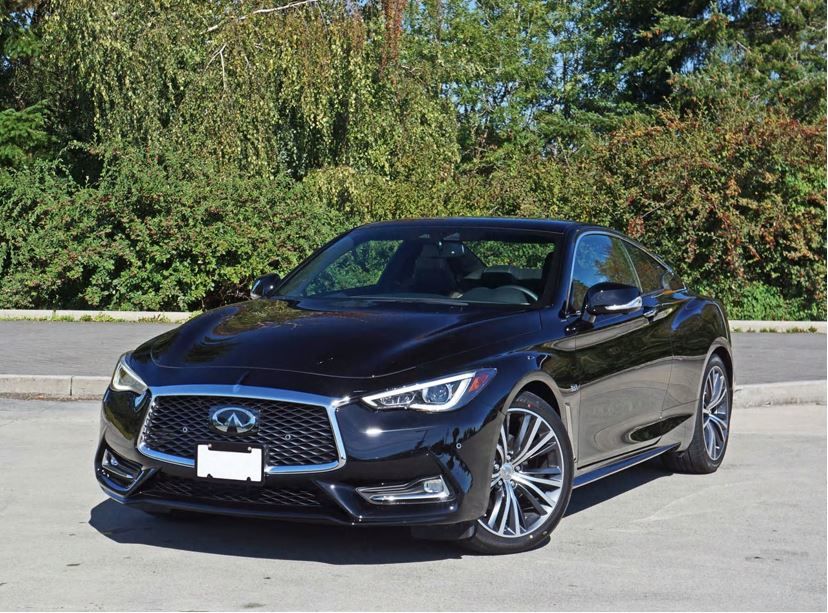 INFINITI is getting a lot of positive press about its sensational new Q60 sport coupe. Personally, it's a stunner no matter the trim level, so I was more than happy to make my first stint behind the wheel in a mid-range. It's equipped with a new 3.0-litre twin-turbo V6 that's good for 300 horsepower and 295 lb-ft of torque, which is easily enough performance to live up to its svelte looks. Of note, there's also an entry-level Q60 2.0t AWD with 208 horsepower and 258 lb-ft of torque that starts at $45,990 plus freight and fees, and a top-line Q60 Red Sport 400 AWD with 400 horsepower and 350 lb-ft of torque for just $60,990.
Well Equipped No Matter the Trim
For just $52,990 plus freight and fees my 3.0t AWD tester came well stocked with features. Items not upgraded from the base Q60's standard content include an advanced seven-speed automatic transmission with driver adaptive shift control and rev-matched downshifting, the INFINITI Drive Mode selector that provides a choice between Standard, Sport, Snow, Eco or Personal settings, all-wheel drive that pushes 100 percent of the torque to the rear wheels when no slippage occurs or up to 50 percent to the wheels up front when more grip is required, an independent double-wishbone front and multi-link rear suspension, active trace control that modulates braking and engine torque to improve cornering feel, and fabulous looking 19-inch alloys on 255/40R19 all-season run-flats. Additional standard kit includes LED headlamps, heatable side mirrors with integrated LED signals, keyless access, aluminum treadplates, pushbutton ignition, a leather-wrapped multifunction steering wheel, genuine aluminum trim, electroluminescent primary instruments, dual-zone auto HVAC, INFINITI InTouch dual display infotainment with an eight-inch top monitor and seven-inch lower touchscreen, a backup camera, voice recognition, text message capability, satellite radio, a powered moonroof, eight-way powered seats with lumbar, rear parking sensors, Scratch Shield self-healing paint, tire pressure monitoring, plus all the usual active and passive safety features.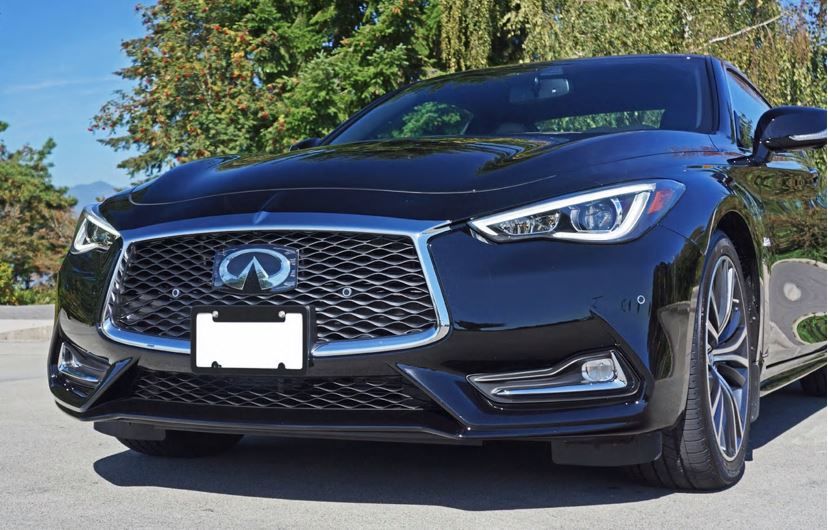 3.0T Adds Extra Performance Plus Plenty of Key Upgrades
Along with the more potent engine the 3.0t tested added remote start, a heatable power tilt and telescopic steering wheel, heatable front seats, memory for the steering wheel, seats, and side mirrors, sumptuous semi-aniline leather upholstery, navigation guidance, navigation-synchronized adaptive shift control, SiriusXM Traffic, 13-speaker Bose Centerpoint surround audio, a garage door opener, and more.
Option Packages Include the Latest Active Safety Tech
The base car can be upgraded with either a $4,000 Premium package that adds all of the equipment found in the 3.0t, sans engine, while a $2,000 Driver Assistance package adds rain-sensing wipers, a 360-degree surround parking monitor featuring Moving Object Detection, front parking sensors, Predictive Forward Collision Warning, Forward Emergency Braking with Pedestrian Detection, Blind-Spot Warning, and Back Collision Intervention with Rear Cross Traffic Alert. The latter package can also be had with my 3.0t tester, and is prerequisite with the $3,200 Technology package that came with my particular car. It features auto-leveling and adaptive cornering headlight control with auto high beams, full-range adaptive cruise control, Distance Control Assist, INFINITI's Eco Pedal, advanced climate control, pre-crash front seatbelts, Blind-Spot Intervention, Lane Departure Warning and Prevention with Active Lane Control, and INFINITI's highly advanced steer-by-wire Direct Adaptive Steering, which was highly reactive and quite natural feeling.
Value Remains a Key INFINITI Attribute
Before delving into the overall Q60 3.0t experience, I chose to itemize much of the car's standard, upgraded and option features to make a point, value. INFINITI has long been a brand that woos customers by offering a great deal of car for a very reasonable price, and the Q60 doesn't deviate. If you were to compare the aforementioned German alternatives as well as its lone Japanese competitor, you'd find the Q60 delivers a great deal more standard features from a similar starting point, and concurrently those models will cost you a lot more if optioned out to the Q60's base configuration, let alone plenty more when compared to the car tested here, which incidentally carried a $58,190 window sticker, less freight and fees. Importantly, the Q60 doesn't merely wow you with gorgeous sheet metal and then leave you flat once inside. Instead you're greeted by the segment's usual high quality soft touch synthetic surfaces, leathers, genuine hardwood trim and metals, plus no shortage of digital displays, all combined into an aesthetically pleasing and thoroughly pampering cabin. In this respect INFINITI hasn't strayed far from the Q50's impressive interior, so the Q60 will be an easy transition for one of the brand's four-door customers. I particularly like the aluminum Bose Performance Series speaker grilles on the door panel, although the sound that pulsed through them was even more impressive.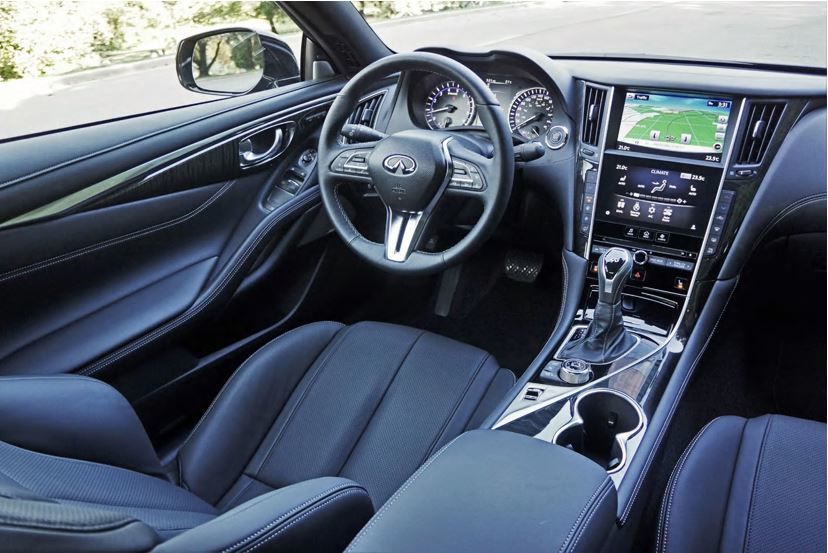 Beauty Is More Than Skin Deep
The primary gauge cluster is a mix of beautiful backlit purple analog dials with a colour digital display at centre, while the aforementioned dual displays on the centre stack are easy enough to use once acclimatized. The top one is too far away to reach and therefore requires a set of buttons and rotating controller on the lower console, the latter dial beautifully finished in knurled metal for a rich look and feel, while the lower display is a straightforward touchscreen with a particularly crisp, clear resolution, plus superb depth of colour and contrast. On another practical note, the Q60 feels spacious up front and in the rear. Most cars in this class offer a modicum of adult-sized comfort in back, but I had about three inches ahead of my knees when the front seat was set to my five-foot-eight medium build body, with reasonable space for my feet and still some left over above my head. I like the way the rear roof pillars get finished in cloth like the two up front, not always the case in the very back where few folks venture. The trunk is quite large for this segment, and I especially appreciate the little button handily housed on the left taillight lens to let you inside. The 375 litres of stowage space allotted is actually 75 litres more accommodating than its predecessor.
The New Q60 Performs Better Than Ever
Press the start button and hear the V6 spark to life and such practical issues will immediately be forgotten. The first thing I noticed when on the road is the incredibly direct steering, just the slightest movement of the wheel resulting in immediate response from the front tires, yet it was never twitchy or nervous feeling. In fact, the Q60 felt totally stable. No matter whether I was driving slowly around town, darting in and out of traffic, cruising at highway speeds, or flinging it through ribbons of serpentine black tarmac it delivered superb control. The new Q60 feels lighter and more agile than the previous version, while it's also more capable at the limit. I can't see anyone not liking the driving experience, especially when factoring in the engine lineup. Even the fuel economy is good for the class, with the base model rated at 11.2 L/100km city, 8.5 highway and 10.1 combined, my 3.0t AWD tester claimed to achieve 12.4 city, 8.8 highway and 8.8 combined, and the Red Sport 400 still quite thrifty at 12.5, 9.2 and 11.0. Of note, standard auto start/stop helps reduce consumption and emissions when the engine would otherwise be idling, while the car's slippery 0.29 coefficient of drag helps when at speed. I've driven all three engines in various models, and I must say the base turbo four-cylinder in Q50 2.0t trim is a lot more enjoyable to drive than its numbers suggest, whereas the top-line Red Sport is wickedly fun, similarly quick to some of the much pricier specially tuned Germans with a more refined, mature, luxury-oriented approach. This 3.0t delivers excellent response to throttle input too, its twin turbos spooling up without any noticeable lag and the availability of full twist arriving much quicker in the rev range for considerably more grunt off the line than the old naturally aspirated V6. It sounds good as well, with a subtle turbo whine and just enough exhaust bark to stir the soul, although the Red Sport gets the nod in this respect too.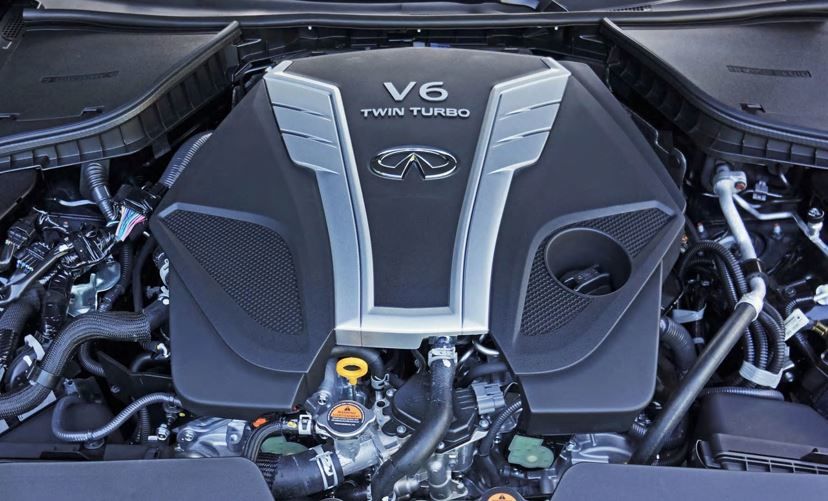 Variety Is the Spice of Life
That top-line model also includes magnesium paddle shifters, while along with everything already mentioned with my tester, the Red Sport also gets quick-ratio steering, a sport suspension with electronically adjustable shocks, sport brakes, and more. With plenty of flavours to enjoy, the new Q60 should appeal to INFINITI's faithful while attracting new fans to the brand. It's a superb luxury-sport coupe that deserves heaps of praise, especially when factoring in its very reasonable price. Don't pass this one by.
Story credits: Trevor Hofmann, Canadian Auto Press
Photo credits: Karen Tuggay, Canadian Auto Press
Copyright: Canadian Auto Press Inc.