2017 INFINITI Q60 Red Sport 400 Road Test Review
April 19 2017, Trevor Hofmann - Canadian Auto Press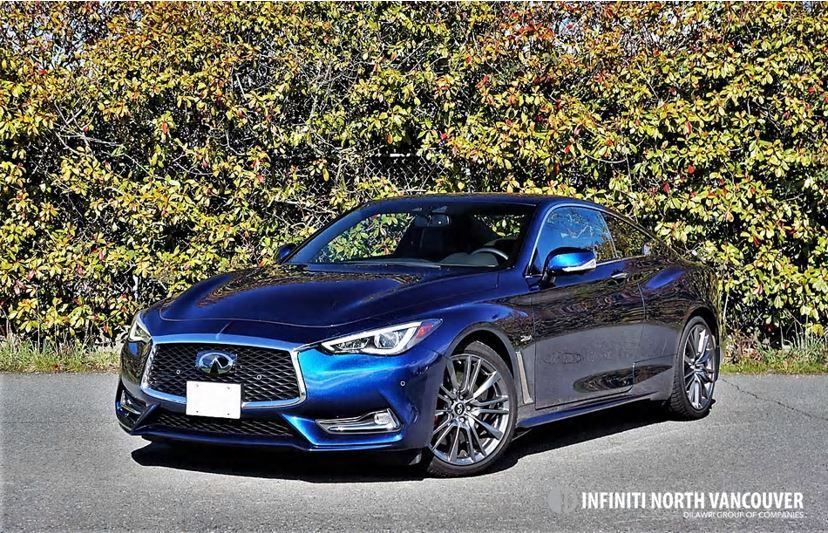 Tastefully Beautiful and Breathtakingly Fast
The first-generation INFINITI G35 Coupe has to be one of my all-time favourite two-door hardtops, not only because it was and still is a particularly beautiful car, especially from its rear three-quarter angle, but it was brilliantly quick and fabulous fun through the curves too. This said, next to the entirely new Q60 Red Sport 400 the now classic G35 looks respectfully sedate, and its performance, while always a thoroughly engaging handler, comes up a sizeable 120 horsepower short.

I know it's hardly fair to put a 14-year old classic up against a completely new sports coupe, but there's a reason I choose to. In my opinion the light and lively nature of the original was somewhat dampened by the considerably more potent and dynamically superior second-generation G37 Coupe, which morphed into the Q60 as part of INFINITI's brand-wide renaming scheme in the summer of 2013. Yet despite its performance gains and much-improved interior design, fit, finish, materials quality and features set, it never captured my heart as persuasively as its predecessor. The new Q60 does, however, and in Red Sport 400 trim is one of the most impressive personal luxury coupes available today.
In fact, I like the entire 2017 Q60 lineup, having driven and reviewed the new 3.0t AWD model last fall, but while a wonderfully quick, impressively refined and beautifully sculpted performance machine it was nowhere near the car this Q60 Red Sport 400 is.


Sensational Performance from a Very Powerful v6
The Red Sport 400 is a super coupe for those who prefer subtler styling and less aggressive dynamics than what some of its rivals are offering. It's blazingly quick with 400 horsepower and 350 lb-ft of torque driving both axles, its paddle-shift actuated seven-speed automatic rows through the gears fast enough for all but adrenaline-addicted track stars, and it'll carve up a two-lane canyon road as adeptly as the majority of its ultra-pricey competitors, but it does so without punishing occupants from ride harshness thanks in part to sport-tuned electronically adjustable dampers.
The Red Sport 400 comes standard with a quicker steering ratio too, while my tester was also improved via INFINITI's very reactive and remarkably natural feeling steer-by-wire Direct Adaptive Steering as part of its Technology package, which does away with the steering column (although there's a failsafe mechanical connection just in case). Lastly, INFINITI includes more powerful sport brakes with red-painted calipers for shorter, more controlled stopping performance no matter the level of workout endured prior to calling them into action.

Considering its performance, the Red Sport 400 is also priced very well. Value is nothing new at INFINITI, the brand always offering a lot more for the money than its closest Japanese competitor and all three German brands, but $60,990 for this stunningly gorgeous, superbly capable sports coupe seems too good to be true. The Red Sport 400 incorporates one of three Q60 Coupe powertrains, the base car sporting a 2.0-litre turbocharged four-cylinder with 208 horsepower and 258 lb-ft of torque (I've only driven this one in sedan form), and the previously tested 3.0t equipped with the same 3.0-litre, 24-valve, DOHC, twin-turbo V6 as this Red Sport 400, albeit in a lesser state of tune that's good for 300 horsepower and 295 lb-ft of torque.


Handling That Matches Its Straight-Line Performance
No matter the powertrain, every new Q60 drives all four wheels through a quick shifting albeit ultra-smooth seven-speed automatic with rev-matched downshifts; the Red Sport 400 also receiving aforementioned paddle shifters for greater control when pushing hard. The AWD system defaults to rear-drive when no wheel slippage occurs-INFINITI (and Nissan) has been perfecting its rear-wheel biased AWD system since first offering it in the G35x sedan-or can send up to 50 percent of its torque frontward when needed. Weather conditions hardly affect traction, the Red Sport 400 adhering to pavement fully and completely, even when pushed much harder than I'd recommend to all but professional drivers. The car's AWD system's torque-vectoring characteristics even benefit handling in the dry, by reducing both understeer and oversteer for a well-balanced, controlled feel.
If you've driven a Q50 Red Sport 400 (the four-door model I reviewed last year) you'll not only be familiar with this two-door version's powertrain, but also its interior. Both receive beautiful blue-hued glossy carbon inlays throughout, plus high-grade contrast-stitched leather on the instrument panel, lower console, door skins, and of course the seat upholstery that's made from wonderfully supple semi-aniline hides with perforated inserts. They're aggressively bolstered, nicely contoured, yet still easy to get in and out of and wonderfully comfortable thanks to plenty of powered adjustment, while the foot pedals are appropriately formed from metal.

The brand's trademark purple-tinted Fine Vision electroluminescent primary gauges are as bright and legible as always, while the large and highly functional colour TFT display at centre is a world of quick-access information. As usual INFINITI's dual-display infotainment system resides on the centre stack, the eight-inch top monitor filled with a 360-degree parking camera, the navigation system's mapping plus plenty of other functions and controlled by a rich looking and solid feeling knurled metal rotating knob on the lower console between the seats, and the seven-inch bottom display a touchscreen for accessing more navigation info, adjusting the radio and HVAC settings, setting up your phone, etcetera. Both displays offer very high resolution with attractive graphics, rich colours and deep contrast, while functions are easy to figure out and respond quickly.


Wonderfully Fast and Luxurious yet Practical Too
Now that we're talking the practical day-to-day issues of life with a Q60 Red Sport 400, take note those superb front seats offer a lot of room for larger folks and the ability to get close to the pedals for those on the smaller side, while most should find the powered steering column provides enough rake and reach for ideal ergonomics. My long-legged and short-torso body often has trouble fitting into cars with less than optimal telescopic reach, but no such issues with any Q60. As for rear seat roominess, it's a 2+2 sport coupe so don't get your hopes up about stuffing in your six-foot teenager. Nevertheless, I had about three inches ahead of my knees when the driver's seat was set to my five-foot-eight medium-build frame, with reasonable space for my feet albeit not much left over above my head.

Normally this is where I criticize a given sport coupe's trunk size, but not so with the new Q60 thanks to 375 litres of cargo capacity. That's 75 litres more than the outgoing Q60, while access comes via the key fob or an intelligently placed, mostly hidden button on the left taillight lens. The rear seatback folds down resulting in a wide opening for stuffing through skis, snowboards and more.
Part of the Red Sport 400's value proposition is its immense helping of standard features, with exterior items not yet mentioned including a sport tuned double-wishbone front and multi-link rear suspension, active trace control that modulates braking and engine torque to improve cornering feel, 19-inch twinned five-spoke alloys on 255/40R19 all-season run-flat performance tires, full LED headlights, LED fog lamps, heatable power-adjustable side mirrors with integrated LED turn signals, and LED taillights.


A Higher Level of Standard Equipment Than Its Competitors
Remote start will warm up or cool off the car before getting inside, while proximity keyless access makes doing so easier and pushing the ignition button results in all systems go. You'll cross signed aluminum treadplates on your way in, enjoy the warmth and overall feel of the heatable leather-wrapped multifunction sport steering wheel, and the coldness of the leather- and aluminum-clad shift knob during winter months. A quick touch verifies the aluminum trim is genuine too, while additional Red Sport 400 equipment includes rain-sensing wipers, dual-zone auto climate control, voice recognition, text message and email reading capability, a 360-degree surround parking monitor featuring Moving Object Detection, navigation with lane guidance and 3D building graphics, navigation-synchronized adaptive shift control, real-time traffic info via SiriusXM Traffic, 13-speaker Bose Centerpoint surround audio, satellite radio, a garage door opener, an auto-dimming rearview mirror, a powered moonroof, eight-way powered front seats with powered lumbar support and heat, laterally supportive powered driver torso bolsters, memory for the steering wheel, seats, and side mirrors, front and rear parking sensors, Scratch Shield self-healing paint, tire pressure monitoring, and INFINITI's Drive Mode selector that lets you choose between Standard, Sport, Snow, Eco or Personal drive settings.

Of course, all the usual active and passive safety features are part of the top-line model's inventory too, plus predictive forward collision warning with forward emergency braking and pedestrian detection, blindspot warning with rear cross-traffic alert and intervention, and more.
As noted earlier, my car was equipped with Direct Adaptive Steering that came as part of the $3,200 Technology package, which also includes auto-leveling and adaptive cornering headlight control with auto high beams, full-range adaptive cruise control, distance control assist, INFINITI's Eco pedal, advanced climate control with plasmacluster and grape polyphenol filtration, pre-crash front seatbelts, lane departure warning and prevention with active lane control, plus blindspot intervention. Lastly, Electric Indigo Metallic paint was a $650 option.


Going Above and Beyond Has Resulted in Significant Sales Success
As you can probably imagine, sales of the new Q60 are much stronger than the old model, with May 2017 numbers a whole 100-percent better than the same month last year. What's more, after a full five months of 2017 the Q60's 540 year-to-date deliveries are up a staggering 2354.5-percent compared to just 22 over the same period last year; that number also well beyond the 422 total units sold during all of 2016.
I certainly understand what all the fuss is about. No matter which powertrain or trim you buy, the Q60 delivers beauty, refinement, quality, value, and speed, the latter especially true of this Red Sport 400. You owe it to yourself to take this tastefully elegant and breathtakingly fast sports coupe for a spin.
Story credits: Trevor Hofmann, Canadian Auto Press
Photo credits: Karen Tuggay, Canadian Auto Press
Copyright: Canadian Auto Press Inc.