2018 INFINITI Q50 3.0T AWD Luxe Road Test Review
February 05 2018, Trevor Hofmann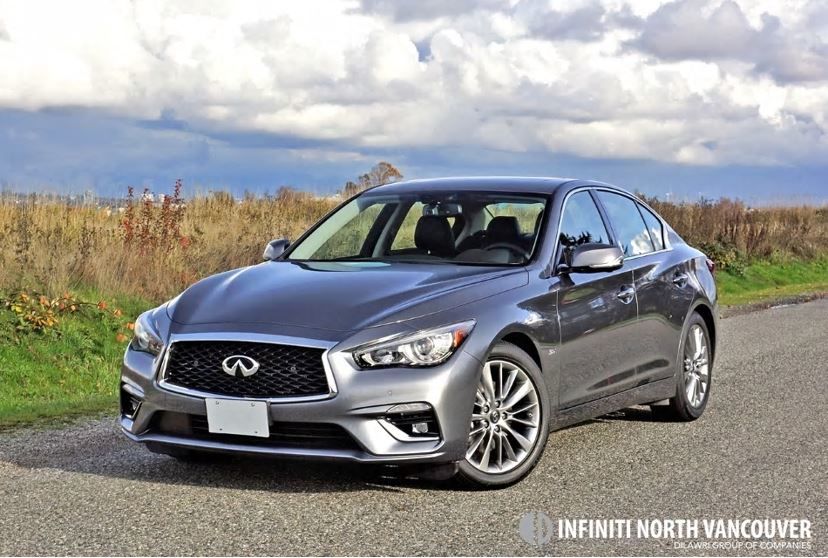 A Beautiful Redesign of an Already Impressive Car
INFINITI redesigned its popular Q50 sport-luxury sedan for 2018, making a good thing even better.
The changes include a refreshed version of the brand's trademark double-arch grille that now offers more texture to its wavy mesh-patterned insert, plus muscled up character lines that now follow the upper outside corners of that grille across each side of the hood. Additionally, INFINITI revised the LED headlamps with a more animalistic eye-like design, and reworked the LED taillights at the polar end. Lastly, the most noticeable changes were saved for the new model's lower front and rear fascias, which now more clearly depict the trim line, or rather "grade structure" being offered.

On that note the 2018 Q50 is now available in Luxe, Signature Edition, Sport and Red Sport 400 grades. Signature Edition and Sport grades offer performance-oriented exterior styling that I went over in detail as part of a 2018 Q50 Red Sport 400 road test that is available from the "INFINITI Reviews" section of this site, while the model I most recently spent a week with is the more elegantly styled 2018 Q50 3.0t AWD Luxe, which is essentially the Canadian-spec base trim upgraded with the more formidable 3.0-litre twin-turbo V6.

Award-Winning INFINITI Twin-Turbo v6 Provides Smooth and Refined Power
This means, instead of the 2.0t turbocharged four-cylinder engine's 2.0-litre displacement, 208 horsepower, and 258 lb-ft of torque, my tester's engine produced 300 horsepower and 295 lb-ft of torque for much more pleasing response from takeoff, during highway passing manoeuvres, and everywhere else, plus improved quietness with less vibration for a greater sense of refinement, and lastly a wonderful engine and exhaust note.
It appears I'm not the only one voicing praises to this new powerplant, as the Nissan/INFINITI VR family of 3.0-litre twin-turbo V6 engines is following in the automaker's former VQ V6 engine's footsteps by once again becoming a 2017 Ward's 10 Best Engines winner.

Like the 2.0t, the 3.0t engine comes mated to INFINITI's in-house seven-speed automatic transmission and all-wheel drive, the latter system often praised by yours truly and other journos for its rear-biased nature and tenacious grip in both dry and inclement weather, while the INFINITI autobox is a highly advanced bit of cog swapping kit that comes complete with dual transmission fluid coolers, Adaptive Shift Control (ASC) boasting an adaptive learning algorithm that senses a driver's style and automatically adjusts shifting accordingly (upgraded with navigation-synchronized capability in upper trims), as well as a manual shift mode that helps you drive and sound like a pro thanks to Downshift Rev Matching (DRM).

An Ideal Combination of Luxury, Sport and Efficiency
It all sounds like race-spec equipment, but in the 3.0t Luxe these components are used to deliver creamy smooth, linear power from all over the boosted engine's rev range, making it easy to manage in any situation. While always luxurious and refined, this Luxe trimmed model also provided superb agility when pushed hard.
That's when the Q50's updated Rack Electronic Power Steering shows its advantages. This more sophisticated steering system, standard with the V6, is an upgrade over the 2.0t's vehicle speed-sensitive hydraulic electronic rack-and-pinion power steering setup, in that it adds steering effort when the Q50's yaw rate changes, and then adjusts to increase assistance when the wheels straighten. This isn't the top-line Q50 drive-by-wire Direct Adaptive Steering system and doesn't include the two Sport models' fast-ratio setup either, but it nevertheless combined sporty responsiveness with wonderfully smooth control at high speeds, while it was ultra-easy to drive around town or within confined parking garages.

You can make adjustments through the lower console-mounted Drive Mode Selector, which modulates steering, suspension and drivetrain settings via Standard (default), Snow, Eco, Sport and Personal modes. All of this works wonderfully with the fully independent standard suspension, an aluminum-intensive design that combines front double-wishbones with a rear multi-link setup, along with Dual Flow Path shocks and stabilizer bars at both ends.
While performance is important in this class, fuel economy is becoming more of an issue due to rising pump prices around Greater Vancouver. To this end INFINITI should be lauded for developing such a powerful engine that makes such a small environmental footprint, the as-tested Q50 3.0t AWD good for a claimed 12.4 L/100km city, 8.7 highway and 10.8 combined. Of course, the 2.0t AWD is thriftier still at just 10.7 city, 8.6 highway and 9.7 combined, and the as yet unmentioned Q50 Hybrid AWD better yet at 9.1, 7.7 and 8.5 respectively, but that's a different story for another time.

An Upgraded Interior to Be Proud of
Any talk about the Q50 interior I tested will shed light on changes made to the Hybrid, mind you, not to mention other grades within the range, starting with the redesigned steering wheel that looks and feels sportier than the outgoing version. It's ideally shaped with well-placed, more defined thumb spats, plus its inner baseball-style stitching provides better grip. It also seems as if it's finished in a higher grade of leather, while its spokes are thinner for a more sophisticated look, and the switchgear attached impresses as well. The shift knob is new too, with a more ergonomic design, nicer leatherwork, double stitching, and higher end detailing that even includes an INFINITI logo on top, although none of this will be new if you'd spent time in last year's all-new Q60 sport coupe.

It only makes sense that changes made to the Q60 would find their way to a car that has always shared much of the Q50's underpinnings and cabin detailing, and being that the two-door coupe thoroughly impressed us during our multiple tests you should be able to guess that the rest of our 2018 Q50 3.0t AWD Luxe tester's cabin didn't disappoint either. For instance, the four-door model gets double-stitched padded leatherette on the dash-top, instrument panel and lower console sides, which help to protect the inside knees against chafing, while soft-touch synthetic surfaces can be found most everywhere else including the glove box lid. Additionally, this luxury-oriented grade features gorgeous maple hardwood inlays that look and feel more naturally genuine than previous versions.
Bright, colourful and attractively laid out Fine Vision electroluminescent primary gauges are standard with all Q50 trims. These provide superb legibility day or night, and include a large, fully featured colour multi-information display at centre, while over on the centre stack are yet more colourful digital interfaces.

Dual Touchscreen Infotainment an Advantage over Competitors
INFINITI has an advantage over some of its closest rivals in this respect, as its two vertically stacked tablet-style infotainment touchscreens aren't held back by less efficient controllers that only use external rotating knobs, buttons, or touchpads. INFINITI still includes a beautiful knurled metal dial with a few surrounding buttons for those who'd rather get their info this way, but let's face it, our world has become a lot more comfortable applying finger gestures directly to touchscreens, so kudos to INFINITI for being ahead of the curve in this all-important area and delivering an impressive interface as well.

Both Q50 displays are touch-capacitive, which allows easy use of multiple functions simultaneously, such as the top screen for navigation mapping and the bottom for audio control. INFINITI's appropriately named InTouch system also lets driver and front passenger customize the car's inner environment by storing detailed personal information for multiple drivers, such as memory seating and mirror positions, identifiable via individual proximity-sensing I-keys.

On that note, my tester's beautifully finished leather upholstered seats were some of the best ever installed in a Q50, likely due to INFINITI's new "spinal support" design that ideally cupped the backside while comfortably supporting the upper legs. Their standard eight-way power-adjustability made it easy to get comfortable too, while the optional powered steering column and just mentioned proximity-sensing key-controlled memory settings automatically reselected my ideal driving position on startup.

Standard Q50 Feature List Is Long on Value
The leather upholstery is actually an exclusive 3.0t Luxe option, as higher grades come standard with leather and both Luxe 2.0t and 3.0t trims get standard leatherette seating surfaces like most of the Q50's rivals, with additional standard kit including auto on/off LED headlights, LED fog lamps, LED brake lights, 18-inch alloys on 225/50R18 all-season run-flat performance tires, Scratch Shield self-healing paint, aluminum "INFINITI" branded kick plates, proximity keyless access, pushbutton ignition, rain-sensing wipers, an auto-dimming rearview mirror, a HomeLink garage door opener, micro-filtered dual-zone auto climate control, INFINITI InTouch infotainment with 8.0-inch upper and 7.0-inch lower displays, a rearview camera, Bluetooth phone and streaming audio, six-speaker AM/FM/CD/MP3/satellite audio with HD playback, RDS and speed-sensitive volume, two USB ports, a heatable steering wheel, heated front seats, eight-way powered front seats, a powered moonroof, and more.

Moving up from the 2.0t to the 3.0t Luxe not only provides more power under the hood but also a handful of additional features such as remote engine start, INFINITI InTouch navigation that proved easy to operate and totally accurate, the INFINITI InTouch Services suite of digital alerts and remote services, voice recognition for audio, SMS text and vehicle info, power-adjustable lumbar support for the driver, and 60/40 split-folding rear seatbacks with a centre pass-through (which are optional on the base car).

Available Options Deliver Cutting Edge Technology and Safety
The optional leather I spoke of a moment ago comes as part of the $3,500 Sensory ProASSIST package that also adds two-way memory for the driver's seat, the upgraded power-adjustable tilt and telescopic steering column and the side mirrors, the latter items also enhanced with reverse dipping and auto-dimming capability, while the package also includes an Advanced Climate Control System (ACCS) with a Plasmacluster and Grape Polyphenol filter, a superb sounding 16-speaker Bose "Performance Series" audio system with advanced staging signal processing and CenterPoint 2.0 surround-sound, a very helpful Around View parking monitor with Moving Object Detection (MOD), always appreciated front and rear parking sensors, and a suite of advanced driver assistance technologies including Predictive Forward Collision Warning (PFCW), Forward Emergency Braking (FEB), Blind-Spot Warning (BSW), and Back Collision Intervention (BCI) with Cross Traffic Alert (CTA).

My tester also came with the $3,800 ProACTIVE package that adds an auto-leveling Adaptive Front Lighting System (AFS) that "bends" the headlights to improve night visibility around corners, High Beam Assist (HBA), Intelligent Cruise Control (ICC) with Full Speed Range, Distance Control Assist (DCA), Lane Departure Warning (LDW), Lane Departure Prevention (LDP) with Active Lane Control, Blind Spot Intervention (BSI), and INFINITI's Eco Pedal. The only other option was $650 Asgard Grey paint, which when combined with everything else pushed the base Q50 2.0t AWD price of $39,995 before freight and fees up to $52,920, which is an excellent value when compared to competitors with similar features.

Value has always been an important INFINITI Q50 ingredient, but now the popular model's impressive standard and optional feature sets are joined by some of the most impressive finishing in the class, plus stronger performance than ever offered before. For these reasons and more I recommend you experience the new 2018 Q50 firsthand.

Story credits: Trevor Hofmann, Canadian Auto Press
Photo credits: Karen Tuggay, Canadian Auto Press
Copyight: Canadian Auto Press Inc.