2018 INFINITI Q60 3.0T Luxe AWD Road Test Review
May 02 2018, Trevor Hofmann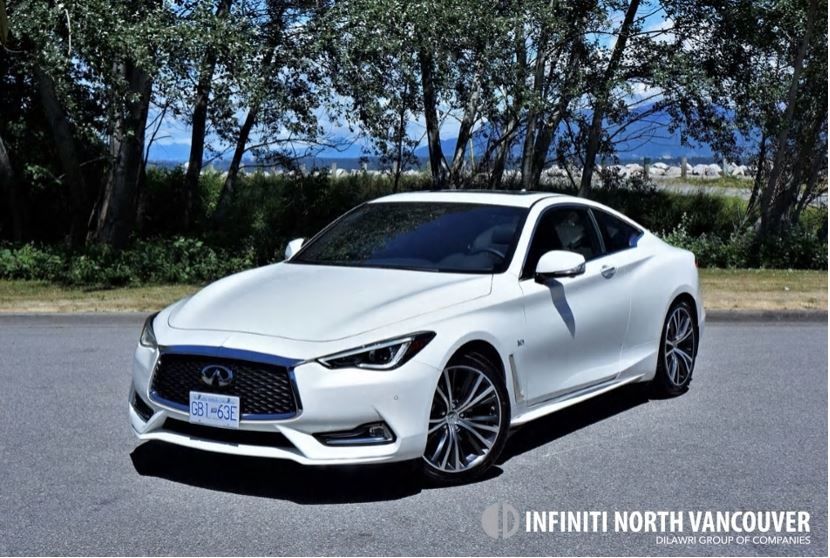 Performance to Match Its Breathtaking Beauty
Twilight was prompting headlamps and taillights to illuminate as I was driving home the other day, which is often a dazzling spectacle of white and red LEDs amongst Vancouver's array of premium and exotic machinery. Driving up to a stoplight, one set of particularly elegant rear lamps caught my attention, followed by a captivating silhouette. My eyes immediately locked in. I wasn't quite sure what I was looking at, but was merely appreciating its beauty. When it came into clearer view and I figured out what I was looking at I couldn't help but give a laugh, as it was the current generation INFINITI Q60, a car that I've spent weeks with at a time on numerous occasions.
Kudos to INFINITI for creating such an awe-inspiring design, and for making it so affordable thanks to a base price of just $46,295 in 2.0T Pure AWD trim. The car on this page is a 3.0T Luxe AWD, which starts a little higher at $53,295.
To be clear, the base model just mentioned and the 2.0T engine will disappear in 2019. If you're more interested in the Q60 for its beauty than out-and-out performance, and then if you can still find one, the 208 horsepower 2.0-litre turbocharged four-cylinder engine is plenty fuel-efficient, but most Q60 buyers opt for the 3.0-litre turbocharged V6 being reviewed here, which makes a much more formidable 300 horsepower and 295 lb-ft of torque. Believe me, it's more than adequate, just as long as you don't try the Q60 Red Sport 400 with its 400 horses and 350 lb-ft of ready and willing torque.

3.0T Luxe AWD Trim Combines Equal Parts Luxury and Performance
That's a car I've previously covered and hope to again soon, but its $61,295 price point might be a bit dear for some, hence the $55,295 Q60 3.0T Sport just below and the Q60 3.0T Luxe I spent a week with. Before I delve into INFINITI's value proposition, which is always a key reason to consider the Japanese luxury brand, let's talk driving dynamics.
First off, it's an easy car to drive around town and on the open highway, as one might expect by looking at its classy chrome detailed exterior and luxuriously appointed leather, hardwood and bright metal lined interior. The ride is firm yet comfortable, its standard 19-inch machine-finished alloys on 255/40 all-season run-flats not helping the former, but its double-wishbone front and multi-link rear suspension making sure of the latter. INFINITI has tuned the spring rates, dampers and stabilizer bars for a competent mix of compliant performance, and while not quite as capable as the Dynamic Digital Suspension included with the Q60's two top-tier Sport trims, its agility around corners shouldn't leave anyone wishing for too much more.

Speaking of more, INFINITI offers the Q60 with four different steering systems depending on engine, trim and your willingness to pay. The base model I mentioned earlier comes with a vehicle-speed-sensitive hydraulic electronic power steering setup, while the car I tested features standard electronic power steering, yet is offered with INFINITI's exclusive Direct Adaptive Steering, which replaces mechanical linkages with a complexity of advanced CPU programming, electronic switches and servo motors to save weight and further enhance the driving experience. Lastly, those two just noted Sport trims can be had with the optional direct steering system or come standard with a more performance-oriented fast ratio electronic power steering setup.

3.0T Engine Provides Impressive Straight-Line Performance
As with the suspension, I never felt any lack of response when pushing the Q60 hard through corners, something I did as often as opportunity allowed. Instead, all that was needed was a little tap on the sizeable 12.6-inch front and 12.1-inch rear discs to load up the front tires and the wonderfully tuned chassis took care of the rest. INFINITI includes standard Active Trace Control that actually enhances cornering feel by modulates braking and engine torque, and I've long been a fan of the brand's rear-biased Intelligent all-wheel drive that sends all available twist to the wheels in back until tire slippage transfers up to 50 percent of torque forward to the front wheels.
Rear tire slippage can happen when getting hard on the go pedal, although you won't notice any such torque transferring going on behind the scenes. All you'll feel is immediate response from throttle input, its torque strongest between 1,600 and 5,200 rpm, which considering its aforementioned 295 lb-ft of twist is a nice broad spectrum that allows what seems like relentlessly quick acceleration.

It feels especially potent when INFINITI's Drive Mode selector is switched to Sport mode. It was quick enough in the default Standard setting, while Snow, Eco and Personal modes are also included, but Sport is best for lickety quick shifts from the wonderfully engaging seven-speed automatic that snaps to attention at takeoff or alternatively quickly drops down through the gears to find the ideal cog for passing manoeuvres. Shift intervals are nice and crisp, but take note this transmission is as much about providing quick reflexes as ultra-smooth operation.

Seven-Speed Automatic Transmission Remains a Class Leader
Truly, INFINITI has really done a wonderful job with this gearbox, while along with its quick reacting performance comes Downshift Rev Matching (DRM) that makes you look and sound like a pro as the engine automatically blips to ideally match a chosen gear; a driver-adaptive learning algorithm that senses your driving style and then adjusts its shifting accordingly; Adaptive Shift Control (ASC) that gets upgraded with navigation system synchronization in Luxe trim and above, which adds GPS mapping data to the usual sensor-based system in order to automatically select shift points when the transmission is left in Drive, selecting the best possible gear depending on uphill, downhill or curving road conditions; plus dual automatic transmission fluid coolers to keep it running smoothly and reliably.

That Eco mode mentioned earlier helps to maximize fuel economy, but even without it the new 3.0-litre V6 is much more fuel-efficient than the previous 3.7-litre engine. I achieved an average of 11.7 L/100km from mostly city and some highway driving without using Eco mode, which puts it fairly close to matching the car's claimed Transport Canada rating of 12.3 city, 8.6 highway and 10.7 combined. The soon-to-be-discontinued four-cylinder gets a thriftier 11.2 city, 8.5 highway and 10.0 combined rating, which really isn't all that much better than the V6, while the brilliantly quick 400 horsepower Red Sport version is good for an estimated 12.5 city, 9.2 highway and 11.0 combined, which once again isn't much of a penalty for its superb performance capability.

Great Value Is Always a Key Ingredient at INFINITI
I'll refrain from deep diving into every last feature and option available to Q60 buyers this time around, mostly because this review is coming out towards the end of the 2018 model's availability and the 2019 will see plenty of changes to trims and feature sets as noted earlier, but suffice to say this current model year and the next one offer premium buyers loads of value. For example, a shortlist of standard features found on the base Pure model include such niceties as full LED headlamps, proximity keyless access, pushbutton ignition, signed aluminum treadplates, genuine aluminum interior inlays, dual-zone auto HVAC, INFINITI InTouch dual display infotainment with an 8.0-inch top monitor and 7.0-inch lower touchscreen, a reverse camera, voice recognition, text message capability, satellite radio, a powered moonroof, eight-way powered front seats with power lumbar support, rear parking sensors, Scratch Shield self-healing paint, plus all the usual active and passive safety features.

Along with the more powerful engine, my 3.0T Luxe tester added remote start, auto-dimming side mirrors, a heatable power tilt and telescopic steering wheel, heatable front seats, memory for the steering wheel, seats, and side mirrors, soft perforated semi-aniline premium leather upholstery, accurate navigation with lane guidance and 3D building graphics, the navigation-synchronized adaptive shift control I mentioned earlier, real-time traffic info via SiriusXM Traffic, superb sounding 13-speaker Bose Centerpoint surround audio, a garage door opener, powered front seat torso bolsters, and more.
INFINITI added $750 worth of Majestic White Pearl paint, plus the $5,200 ProAssist-ProActive package that includes rain-sensing wipers, auto-leveling front headlamps with adaptive cornering, front parking sensors, an Around View Monitor (AVM) with Moving Object Detection (MOD), Predictive Forward Collision Warning (PFCW), Forward Emergency Braking with Pedestrian Detection (PFEB), Blind-Spot Warning (BSW), and Back Collision Intervention (BCI) with Rear Cross Traffic Alert (CTA), which proved to be a useful collection of advanced driver assistance features that worked well without being overly sensitive.

Stunning Interior Continues to Deliver a High Level of Luxury
All of this advanced equipment comes in an interior that's beautifully finished with high-quality materials. Its dash-top is all soft touch synthetic, and stitched together with contrasting thread. INFINITI provides the same impressive treatment across the entire instrument panel, all the way down to the lower console where it turns into an even softer padded leather wrap. This even includes the glove box lid. Likewise, the door panels are finished in this comfortable leather-like material from top to just under the armrests, with contrast stitching throughout.
INFINITI enhanced the leather with a rich looking, substantive feeling dark grey hardwood, plus lots of attractive satin-finish aluminum. It's all tastefully put together for a classy result, while some of its switchgear is edged in knurled metal for extra grip and a ritzier look. Even nicer, the previously noted Bose stereo includes gorgeous drilled aluminum speaker grates on the front doors. Yes, it's easy to fall in love with the Q60 interior.
The perforated leather driver's seat was wonderfully comfortable, and offered good lateral support made better via powered torso bolsters. Also on the positive, Q60 ergonomics fits my body like a glove. Its powered steering column has plenty of reach, while the seat is as adjustable as I could ever need, thus optimizing my driving position for total control and comfort.

Surprisingly Roomy in the Back Seat
Rear seating space is limited of course, which is par for the course in the personal coupe category, especially amongst compact D-segment models. This said I had about four inches in front of my knees when the driver's seat was set for my five-foot-eight medium-build frame, plus ample room for my feet and about an inch above my head to the window glass. I had reasonable side-to-side room as well, measuring about three inches from my outside shoulder and four inches from the hips, while INFINITI also provides a handy rear centre console with a stowage tray and cupholders.
It would be silly to complain about the Q60's smallish 246-litre trunk, because most personal coupes don't offer a lot when it comes to cargo carrying capacity. Fortunately it's nicely finished with carpeting all the way around, plus INFINITI filled the empty spare tire hole with a handy tool kit holder. The rear seat folds forward too, which helps when loading in longer items like skis and snowboards.

Factoring in everything you get with the 2018 Q60, from its potent and efficient powertrains to its gorgeous styling and ultra-rich cabin, not to mention its impressive load of standard features and optional kit, and it's a lot of personal luxury coupe for a very reasonable price range. On looks alone I could recommend it, but it's so much more than just a pretty face. If you want a truly special sports coupe that you won't see coming around every other corner, I recommend you experience the INFINITI Q60 first hand.
Story credits: Trevor Hofmann, Canadian Auto Press
Photo credits: Karen Tuggay, Canadian Auto Press
Copyright: Canadian Auto Press Inc.